A Simple Modem Pooling Solution
For Windows


ModemServe is a legacy software solution that transforms a Windows PC into a "Modem Pooling Server" or a "Serial Device Server" on any Windows network. It includes a free Client redirector which allows all the PC's on your network to access the shared modems or other serial devices through virtual COM ports.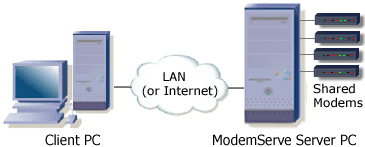 ModemServe allows you to reduce the number of modems and telephone lines your office requires, and their associated monthly costs. ModemServe can simplify administration of your network users and your dialout equipment by centralizing and pooling your devices, without the expense of a dedicated access server.

ModemServe can also be used to share most other serial devices over a network.



List of Features and Benefits:
Features
Benefits
Compatible with MS RAS (Remote Access Server) for dialin.

Allows modems to be used for both dialin and dialout.
Supports multi-user environments.
Works with Windows terminal services, or Citrix Metaframe.
Uses Virtual COM ports, and open protocols for TCP/IP.
Maximum compatibility with virtually all Windows applications.
Automatically provides next available Server COM port to user.
User never needs to reconfigure their selected COM port.
Easy to Install and use.
No Hassles, No Fuss.
Unlimited user client redirection software included.
Very cost effective.
Supported Operating Systems:

All 32-bit versions of the following operating systems are supported on both the server and client ends:
Windows Small Business Server 2003
Windows Server 2003
Windows XP
Windows 2000
Windows NT4 (SP6 only)
Clints running *Nix can use the (unsupported) cyclades-serial-client under::
Linux
BSD/ FreeBSD
IBM AIX
SCO
SunOS / Solaris




Service and Support:


Our goal at PC Micro is complete customer satisfaction. Our technical staff has many years of experience with modem server and modem sharing solutions, and can assist with troubleshooting a wide range of application, hardware, and modem driver issues.

If you have any questions you can call your account manager directly by phone, or email us your questions for a quick response. Our engineers answer emails 12 hours a day on weekdays and evenings, including US holidays for our international customers.




Licensing and Pricing:


The ModemServe software is licensed by the number of shared COM ports or modems. Unlimited clients are included at no extra charge. Purchase additional port licenses as your needs grow. Pricing starts at $100 USD with unlimited clients.

Visit our on-line store for a price list, or you can request a quote.


Upgradable:


Users can upgrade to the NetModem™ software for the difference in price. NetModem is more advanced solution supporting encryption, user authentication, phone number logging and blocking, and works with a wider range of hardware and software (including DOS applications).


More information:

Download a printable one-page Product Data Sheet
View the Screen Shots



For additional information, please contact our sales department:
Phone: +1-805-493-8388 7am-5pm PST.
Toll-Free: 1-800-922-0005 7am-5pm PST.
Email: Sales@pcmicro.com.


Compare Modem Pooling Server solutions

For information on other modem sharing Solutions Click Here.