| | |
| --- | --- |
| Virtual COM port to UDP Redirector | |
VirtualCOM-UDP™ is a software based UDP/COM Port Redirector that provides communications between a virtual serial COM Port and any remote or local UDP port.
VirtualCOM-UDP allows users to connect their existing (legacy) serial communications software programs to local or remote IP network addresses via UDP protocol, giving them the ability to get UDP data streams into their existing application without costly changes.

Scenario 1: "Software Tunneling"
Virtual COM-UDP™ is a great fit when in these situations:
2 PC's need legacy serial based software linked from one to the other over an IP network.

Creating a "TCP socket" between them seems to creates issues that are hard to manage.

UDP is a better solution, but the software cannot be re-written.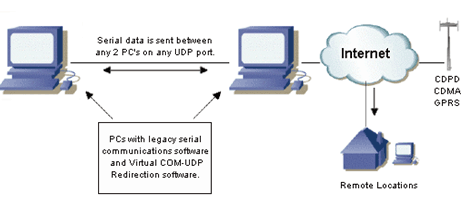 Scenario 2: "Remote Serial Device Connection"
A PC's legacy serial based software normally receives data device on a local serial COM port from an externally connected device such as a bar-code reader, or handheld GPS. The software resides on a machine that cannot be moved, yet the serial data instrument (BC Reader, GPS handheld, etc) needs to be relocated to a remote or wireless environment.
The device and software have their own communication s protocol, and do not need a full-blown TCP connection in order to communicate. A simple protocol such as UDP is desired. With a serial data modem setup for UDP packet data mode, you can now send data to the host PC software, enabling the virtual connection of the device and software. Perfect solution.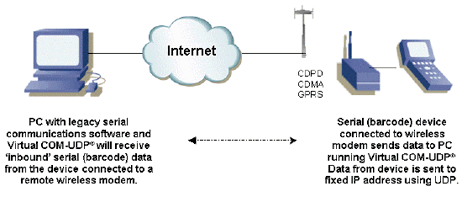 Supported Operating Systems:

Windows Server and workstation 32-bit versions are supported, including:
Windows 7

Windows Vista

Windows XP
Windows 2008.2003. 2000
Windows NT4

Supported Application Software:
Nearly all Windows serial communication programs are supported, including:
Terminal Programs such as HyperTerminal, Procomm, etc.
Financial, Banking, and Credit Systems.
Barcode processing software, .
Utility company meter tracking software
Alarm and Security monitoring software.



Licensing and Pricing:

Licensed per computer the software is installed on. Each license is $79 USD.
Visit our online store to order by Credit Card, or you can Contact Us.




More information:

The User Guide includes detailed technical product description, install and configuration instructions, application issues, and troubleshooting assistance. Visit our support pages for FAQs or to request assistance from an engineer.

Download a free evaluation. The evaluation is fully functional, but is limited to working for 4 hours at a time before needing to be closed and reopened.

We also offer similar products that use the TCP/IP protocol in additiom to UDP, such TCP-COM with 64-bit support..

For additional information, please contact our sales department:
Phone: +1-805-493-8388 7am-5pm PST.
Toll-Free: 1-800-922-0005 7am-5pm PST.
Email: Sales@pcmicro.com.



For information on other SCT Serial Port Solutions Click Here.

---
| | | |
| --- | --- | --- |
| | | VirtualCOM-UDP is a trademark of Simple Com Tools, Inc. |