Capture contact closures on a serial port -
And send them via email.

Serial Switch-SMTP™ is a software solution designed to detect a change in the state of a switch or relay wired to an RS-232 Serial port of a Microsoft Windows PC, and then send a pre-defined email alert message to any Internet email address.

Serial Switch-SMTP is perfect for anyone who needs information on changes in the state of a switch (contact closure) sent directly to support personnel via email, cellphone, or pager. This makes Serial Switch-SMTPTM applicable in wide number of areas, including security/access control applications, intelligent vending, robotics, data acquisition, Telemetry, or other similar solutions.
Serial Switch-SMTP makes the notification of events a 'low-key' event.
No sirens, no bells, and no phone modem dialing. The notification is silent and direct to your email inbox.
Serial Switch-SMTP is perfect for managers who need the oversight, but don't want to ask everyone involved in the alarm process to keep them up to speed. Now all they have to do is check their own personal email and they know exactly when and where events took place.

How SerialSwitch-SMTP™ works

C

onnect the

optional RS-232 hardware interface to any PC
or server on your LAN or remote machine on a Wireless IP network (CDPD, CDMA, GPRS, etc). Connect the switch you want to monitor to the hardware, set up your email recipient list, and you're done! 

Other switches you can use...




Who uses SerialSwitch-SMTPTM

Serial Switch-SMTPTM can provide email notification for almost any type of application, and be installed in any location:

Office Environments

Manufacturing Lines

Retail Locations

Construction Sites

Access Control

ATM or Vending Kiosks

How SerialSwitch-SMTP fits into a network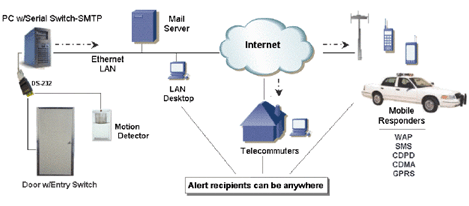 Serial Switch-SMTP sends email to any respondent located inside or outside the network. Alerts arrive on the LAN desktop via regularly used email clients, such as Microsoft Outlook, Lotus, Netscape, etc. or be sent to any person or device reachable via an email address including personal email services (AOL, MSN, Yahoo, etc), Wireless PDAs, WAP or text message enabled cell phones and pagers.


Supported Operating Systems:

All flavors of Windows Server / Workstation / Professional / Home versions are supported:
Windows 2008
Windows 2003
Windows XP
Windows 2000
Windows NT4

Licensing and Pricing:

Licensed per computer the hardware and software is installed on. Each license is $79 USD, including one year of technical support. A switch is not included. RS-232 adapters are available for $14 + shipping.
Visit our online store to order by Credit Card, or you can Contact Us.




More information:

The User Guide includes detailed software technical product description, install and configuration instructions, application issues, and troubleshooting assistance. The Hardware Schematic shows the pinouts of the RS-232 hardware interface. Visit our support page to request assistance from an engineer.

Download a free evaluation of the software. The evaluation is fully functional but will only run for 4 hours at a time before needing to be closed and restarted.


For additional information, please contact our sales department:
Phone: +1-805-493-8388 7am-5pm PST.
Toll-Free: 1-800-922-0005 7am-5pm PST.
Email: Sales@pcmicro.com.



For information on other Simple Com Tools Solutions Click Here
---
| | | |
| --- | --- | --- |
| | | SerialSwitch-SMTP is a Trademark of Simple Com Tools, Inc. |