| | |
| --- | --- |
| Send Serial Data Streams to ANY Email Address | |


SerialStream-SMTP™ is a software solution that provides email transport of serial data streams. Designed to detect serial activity on any RS-232 port of a Microsoft Windows PC, SerialStream-SMTP can send any type of ASCII, HEX, or BINARY serial data stream to any pre-defined Internet email address, cellphone, or pager.
How it works:

SerialStream-SMTP can be installed on any Windows PC or server. Connect the serial data device (RTU, PLC, etc) to this PC using an RS-232 cable.

Next set SerialStream-SMTP to listen for data on that COM port, and configure the email recipients, and you're done. You can now have the serial data sent to your desktop email, as well as your cellphone, or pager!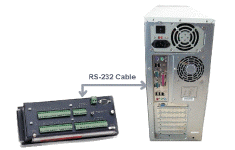 Typical Network Diagram: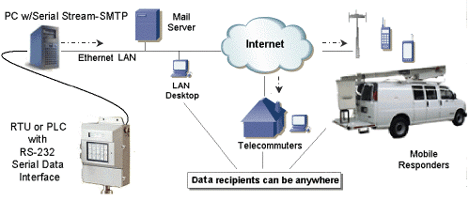 Who uses SerialStream-SMTP:
SerialStream-SMTP provides SMTP transport of serial data to:
SCADA/Telemetry Engineers
Network Administrators
Telecom Engineers
Wireless Integrators
Alarm Companies
Security Companies
Water and Sewer Utilities
Electric and Gas Utilities

Supported Operating Systems:

All popular versions of Windows (both Server and Workstation versions) are supported:
Windows 2003
Windows XP
Windows 2000
Windows NT4
Windows ME
Windows 98

Licensing and Pricing:

Licensed per computer the software is installed on. Each license is $79 USD.
Visit our online store to order by Credit Card, or you can Contact Us.




More information:

The User Guide includes detailed technical product description, install and configuration instructions, and troubleshooting assistance. Visit our support page to request assistance from an engineer.

Download a free evaluation. The evaluation is fully functional, but is limited to working for 4 hours at a time before needing to be closed and reopened.


For additional information, please contact our sales department:
Phone: +1-805-493-8388 7am-5pm PST.
Toll-Free: 1-800-922-0005 7am-5pm PST.
Email: Sales@pcmicro.com.



For information on other Simple Com Tools Solutions Click Here.
---
| | | |
| --- | --- | --- |
| | | SerialStream-SMPT is a trademark of Simple Com Tools, Inc. |