NetModem Server is a software package that transforms a Windows PC into an enterprise class modem server on any TCP/IP network, allowing one or several modem pools to be network shared.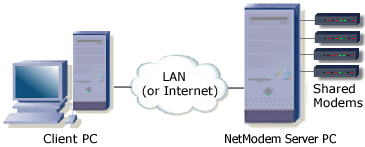 Free client redirectors are included which allows unlimited PC's (both physical and virtual) to access the shared modems on the server through virtual COM ports, providing seamless intrigration with application software. Clients can automatically redirect to the next available modem in the pool.

Features
Benefits
Supports Windows 11/10/8/7/Vista/XP/Server 2022-2003, Remote Desktop and Citrix ZenApp.

Allows a mixed operating system environment.
Supports Native and Virtual platforms including VMware and Hyper-V.
Allows Virtual Servers to access Modem/Fax hardware.
Supports both IPv6 and IPv4 networks.
Compatible with modern networks and internet hosts.
Supports OpenSSL TLS 1.3 encryption.
Conduct transactions using the most secure version of TLS.
Allows both outbound and inbound modem calls.
Clients can dialout or receive incoming calls.
(Incoming calls can be disabled by Server admin.)
Server logging of phone numbers + activity to ODBC Database and/or text logs.
Track usage and monitor security using real-time display or any database report generation tools.
Supports COM Port Control (RFC-2217) for TCP/IP.
Maximum compatibility with modem applications.
Supports Windows User Authentication and Pool Passwords.
Allows simple or Domain (Active Directory) authentication.
Multiple Server Failover allows redundancy.
If the primary modem server is down or full, client can redirect to other modem servers.
Compatible with both analog and T1/E1 digital phone lines.
Scalable, add additional modems as needed.
Backed by our in-house support engineers.
We provide assistance and troubleshooting.






Supported Modem Hardware:

NetModem Server works with Analog and Digital Dial-up modems that create a Windows COM port, including:

Internal modem cards.
External serial port modems.
External USB modems.

Multi-port modem PCI/PCIe cards. (Multitech, Comtrol, Perle, Digi, etc.) (Click here for a list)
Multi-serial port cards with external modems or other serial devices attached.
Dialogic / Eicon Diva Media Boards T1 / E1 / PRI / BRI Remote Access Server & Fax cards.
Patton Electronics Dialfire 2977 T1 / E1 / PRI / BRI Remote Access Server & Fax cards.

Eicon Diva T1 / E1 / PRI / BRI Remote Access Server & Fax cards.

Wireless GSM and Satellite modems.


Supported Application Software:
NetModem Client is compatible with all Windows modem communication programs, including:

Microsoft Dial-Up Networking.
Microsoft RAS.

AT&T Global Network Client.
Banking applications including ANZ, Bankline, Barclays, CommBank, LLoyds Link, Hexagon.

Terminal programs including HyperTerminal, Procomm, puTTY, Qodem, Reflection, Esker TUN.

Healthcare solutions and transfering insurance data.

Automated Meter Reading (AMR) applications, including ACE Vision, Elser MAS, Itron.
Fax applications including as Microsoft Fax and GFI Fax Maker.
Remote control applications including pcAnywhere.


Supported Operating Systems:
All popular 32-bit and 64-bit versions of Windows are supported on both the server and client ends, including the latest revisions and service packs.

Windows 11/10/8/7/Vista/XP/2022/2019/2016/2012/2008/2003 (including R2 releases)

Windows running under VMware or Hyper-V

Clints running *Nix can use the Cyclades-serial-client under:
Linux
BSD/ FreeBSD
IBM AIX
SCO
SunOS / Solaris




Full Service Solutions:

Our goal at PC Micro is complete customer satisfaction. Our technical staff has many years of experience with modem server and modem data/fax solutions, and can assist with troubleshooting a wide range of application, hardware, and modem driver issues.

If you have questions you can call us by phone, or email us your questions for a quick response. Our engineers answer emails 10 hours a day on weekdays and evenings, including US holidays for our international customers.



Pricing:

NetModem Server is licensed by the number of shared modems or shared serial devices. Licensing is perpetual. There are no "per user" client charges. Pricing starts at $75 per shared modem.
View prices or order Additional ports can be added to a license in the future as your needs grow.



Screen Shots:

More Information:


Download a printable one-page Product Data Sheet.
Download a fully functional Free 30-day trial
Visit our on-line Support Library

For additional information or to discuss your needs with a sales engineer, please contact us:

Phone: +1-805-493-8388 7am-5pm PST. (GMT-7)

Email: sales@pcmicro.com or support@pcmicro.com