NetModem Server: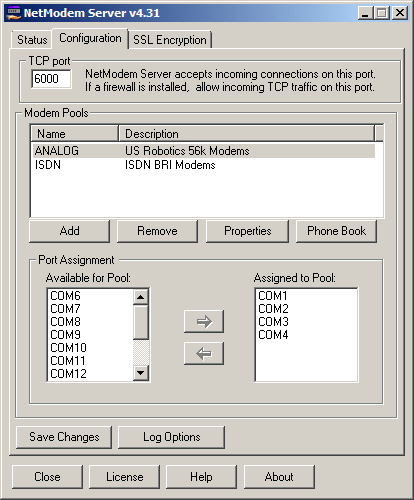 NetModem Server Configuration


Multiple Modem Pools can be defined, which are groups of one or more COM ports which all share the same properties.

When a client requests to use a modem pool, the next available modem COM port in the selected pool can be assigned to the client automatically.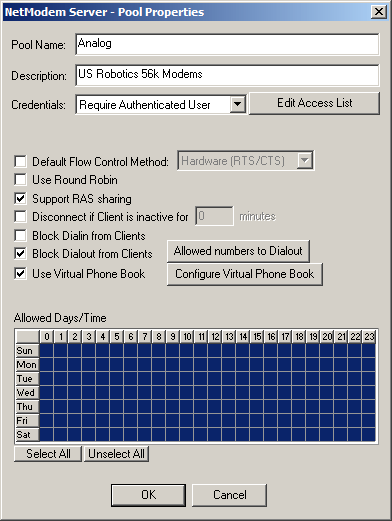 NetModem Server Pool Properties

Each modem pool can be configured independently with its own dialing rules, default flow contro setting, and user authentication access. Clients can be blocked from receiving incoming (Dial-In) phone calls, preventing potential security issues. Dialing rules can be set allows limiting outbound (Dial-Out) calls to a list of allowed phone numbers for this pool. Virtual Phone books can be configured to allow pseudo phone numbers to be used in the client applications, which are converted to the actual phone number by NetModem Serve. An Idle timeout can be set to automatically disconnect inactive users from their modem. Pools can be limited to specific hours of use.
.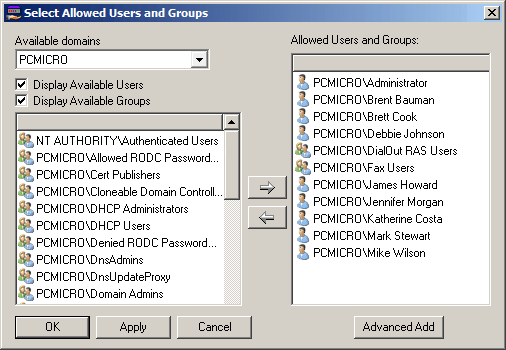 NetModem Server Edit Access List


When authentication is enabled for a pool, select users and groups can be granted access to the modem pool. Users can either belong to the local NetModem Server PC or to an Active Directory Domain on the Network. A Server version of Windows is not required for the NetModem Server software.

.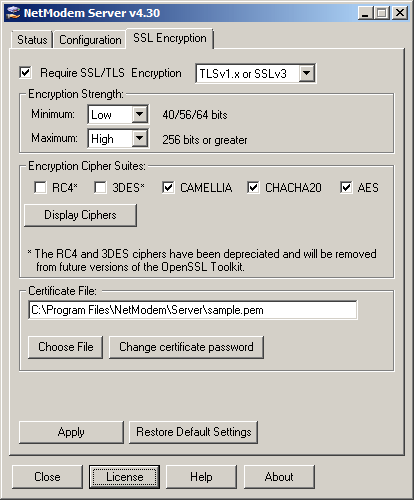 SSL/TLS Encryption


The encryption options allow a secure session between the NetModem Server and the clients, preventing network "port sniffer" software from capturing the data traffic. The latest and most secure version of TLS 1.3 is supported, as well as older TLS 1.2, 1.1, 1.0 and SSL 3.0 encryption protocols. NetModem supports several different encryption ciphers, including hardware based AES-NI, which takes advantage of the AES instruction set built into most modern CPUs.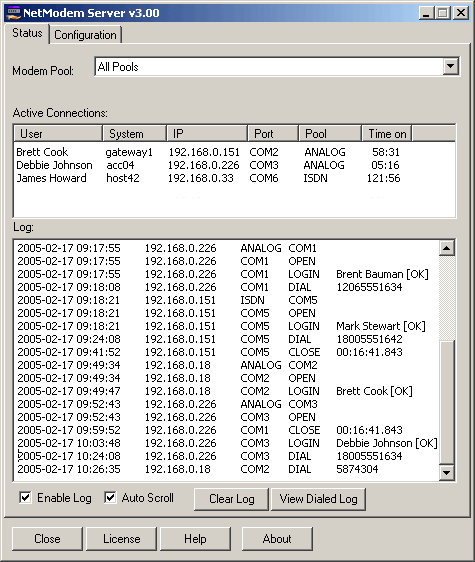 NetModem Server Status


The status tab shows which users are currently connected to NetModem Server in either all pools or a particular pool, as well as a realtime log display of activity on the selected pool(s).

The administrator can disconnect a user by right clicking on them and selecting the Disconnect option.
---
NetModem Client: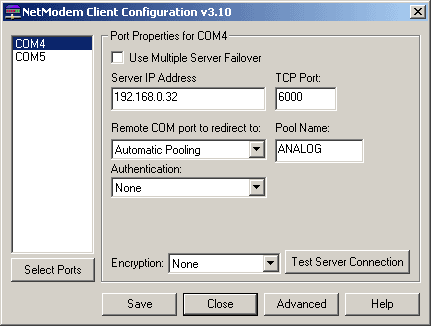 NetModem Client Configuration


This allows selecting which Virtual COM port(s) will be created on the client PC. Each Vitual COM port will redirect to a particular Server address, TCP Port, and optionally a Pool Name. Authentication can be enabledt to optionally provide the users Windows Credentials, a Login/Password, or a Pool password when connecting to the modem server.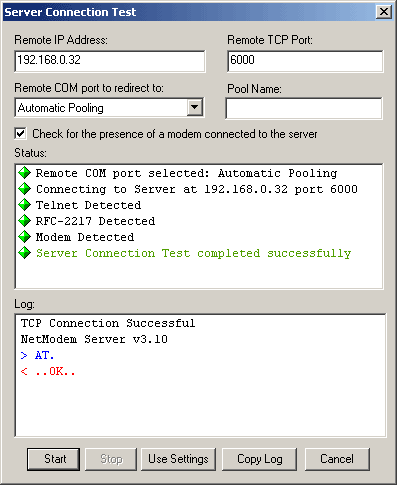 NetModem Client - Server Connection Test


The Server Connection test simplifies the configuration process and verifies that the client is configured to properly connect to the server, by detecting if the server requires a particular authentication or encryption setting. It also verifies that the modem on the server responds to an AT command once the connection is successful.
If Encryption is enabled, it will show which encryption cipher is negotiated, and will display the server certificate credentials.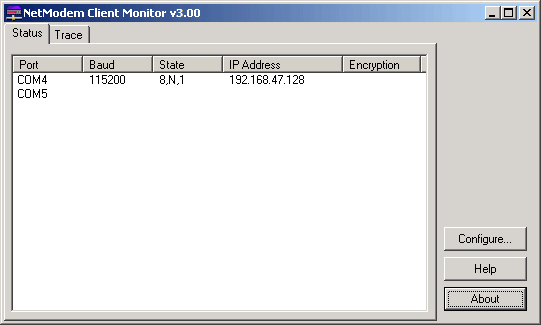 NetModem Client Status


This shows the status of every configured Virtual COM port defined for this client, and shows the current settings of any active COM ports, including the current baud rate, line settings, IP address of the server the COM port is connected to, as well as the encryption cipher being used for the connection..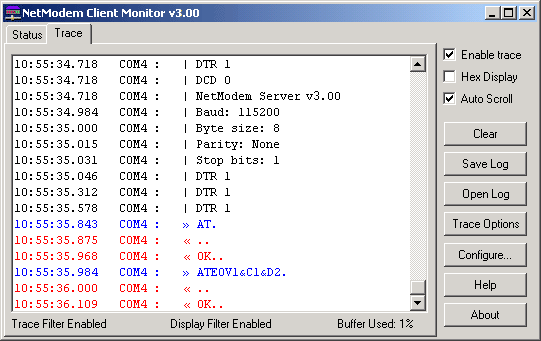 NetModem Client Monitor Trace


The monitor trace allows viewing or collecting a log of the data passed to and from the modem, including changes to the baud rate, line settings adjustments, AT commands sent to the modem, modem responses and the data stream. The log can be displayed in either ASCII or Hexadecimal format. These logs can provide debugging information to either your own IT staff, or can be sent to our support engineers to assist with troubleshooting.

For additional information on how NetModem functions, please refer to the Users Guide