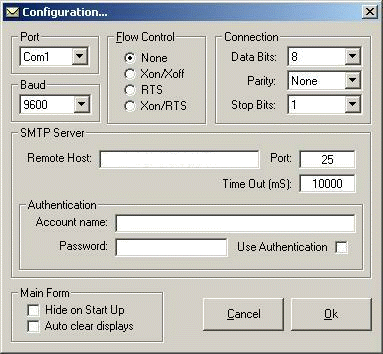 Set the Serial Port, Baud Rate, Flow Control and Data Connection Parameters:
Serial Port to be monitored and serial settings of hardware attached to port
Remote Host: Name or IP Address of SMTP Mail Server used for outgoing messages
Port: SMTP Server Port (Default for SMTP is Port 25.

Change only if told to do so

.)
Time Out: SMTP Server Connection Timeout (Default = 10000 milliseconds or 10 sec)
Account name: Sender account name. This is the name to the left of the @ sign.
Password: Sender account password.
Use Authentication: Specifies that you must log on to your outgoing mail server
Hide on Start up (will force Serial Stream-SMTP

™

to run in taskbar).
Auto clear displays (clears mail progress display on prior to new message)
Select OK when completed.
Select File/Save to save your configuration.