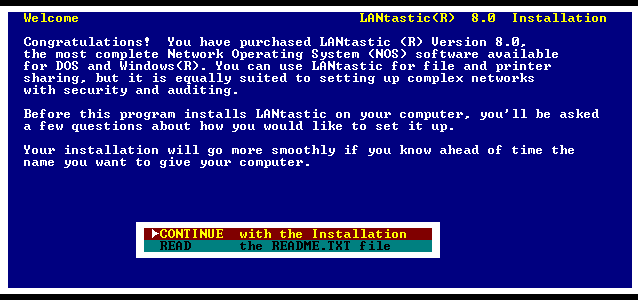 Welcome Screen - Select "CONTINUE with the installation".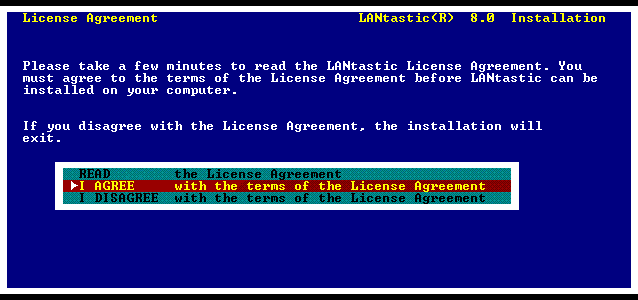 License Agreement - You wonít be able to install LANtastic unless you select "I AGREE".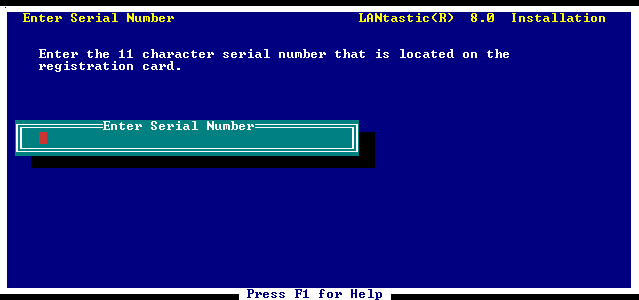 Enter your LANtastic Serial Number - You will also be prompted for the matching license key.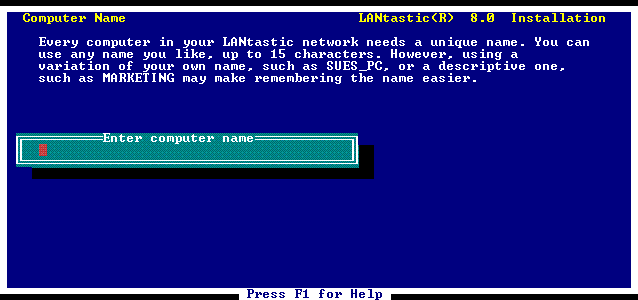 Computer Name - Enter a Unique name up to 15 characters long.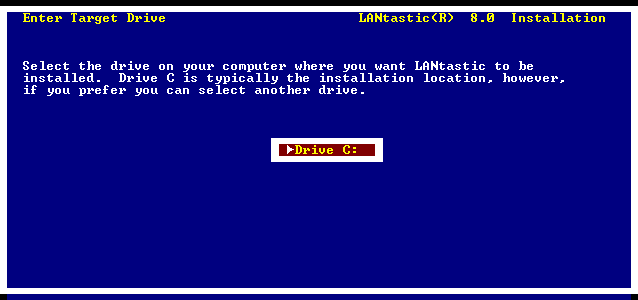 Enter Target Drive - The default is Drive C: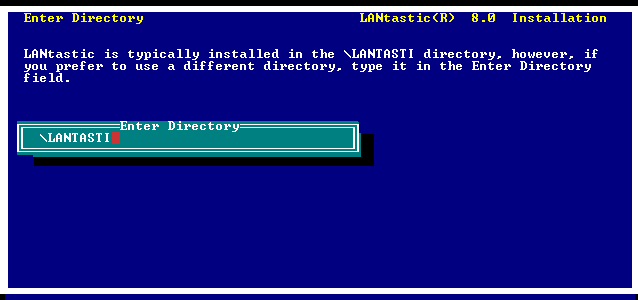 Enter Installation Directory - The default is "\LANTASTI".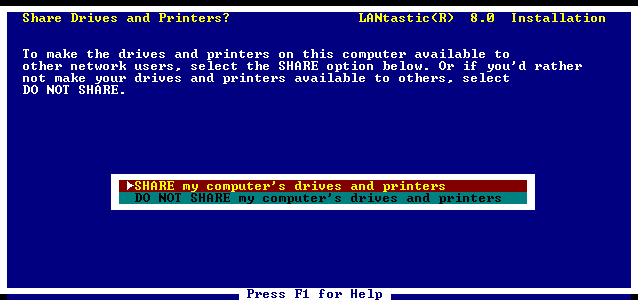 Share Drives and Printers? - Select weather you want to allow drives/printers on this computer to be shared.

If you select DO NOT SHARE, then this computer becomes a LANtastic workstation (client). As such, youíll still be able
to use the shared resources on other network computers (servers).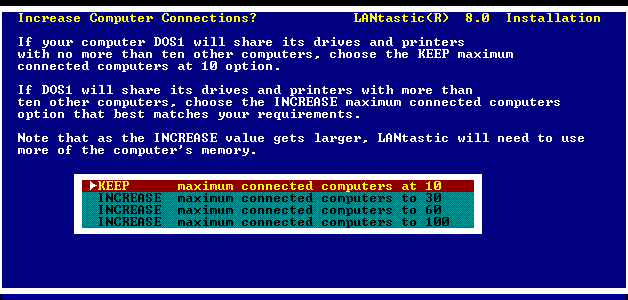 Increase Computer Connections? - set maximum computers that can share resources on this computer.
This screen will only be shown if you selected to SHARE your computer's files and printers.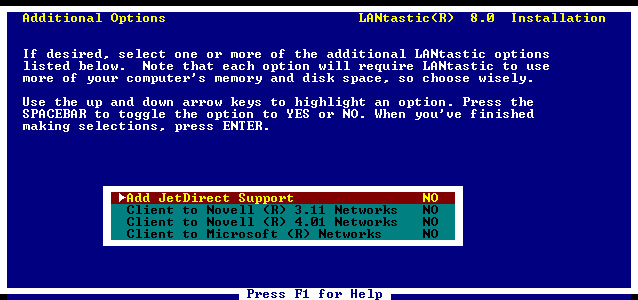 Additional Options - This allows the following options:

Add Jetdirect printer support
Client for Novell 3.11 Networks (Using NCP)
Client for Novell 4.0 Networks (Using NCP)
Client for Microsoft Networks (Using SMB 1.0)

The Add JetDirect Support option lets you share an HP JetDirect printer thatís on your network.
The Client to Novell options allow you to connect to and use Novell servers.

The Client to Microsoft Networks option allow you to connect to and use servers that support Server Message Block (SMB) 1.0. This includes Windows NT4 / 2000 Server, LAN Manager, Windows for Workgroups, and Samba (for Linux or Unix).
Samba is the only secure SMB 1.0 and CIFS compatible network server which is activly being developed and supported. Samba is open source freeware, and works seemlessly to allow LANtastic DOS Clients as well as modern Windows Clients to access shared files and printer services. For more information, visit https://samba.org

Note: Client to Microsoft Networks is not required to connect to PC's running LANtastic 8.01 for Windows, or to allow those PC's to connect to a LANtastic for DOS Server. It is only required to connect to an SMB compatible server.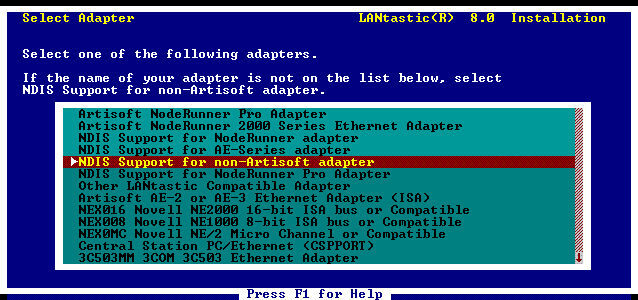 Select Adapter - For most Network Adapter Cards, choose "NDIS Support for non-Artisoft adapters".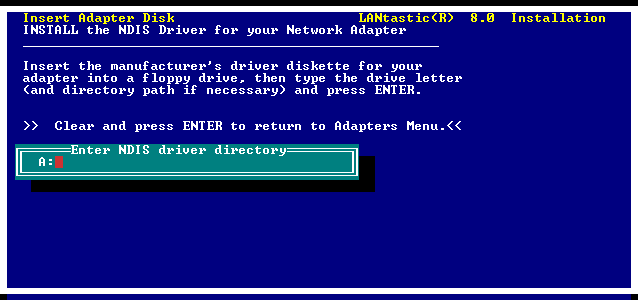 Insert Adapter Disk - Type "A" followd by the Colon character and press [Enter] for a foppy drive, or type other path
to the the NDIS drivers for your Network Adapter. You can find NDIS Drivers for many brands of network cards Here.
Otherwise you can find NDIS drivers from the Network Adaptors Company web site, or contact us for assistance.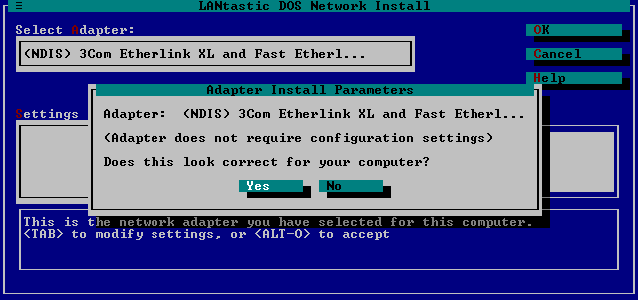 Adapter Install Parameters - Most PCI card NDIS adapters do not require configuration settings, in which case you can
just press [Enter].



Summery - Review your settings before performing the installation. If the specifications are acceptable, select OK [Enter].

If you need to make changes to one or more of your specifications, select the Go Back option. Setup remembers your
previous selections, so accept the defaults for each screen until you reach the one(s) that you want to change. Make the
correction(s), then continue to accept the defaults until you reach the Summary screen. Select OK to perform installation.



Permanent Connections - Do you want to setup them up after DOS reboots?

If you want to be able to make permanent connections immediately after Setup restarts your computer, press Enter to
select Yes. If you prefer to make your connections later, select No .
Note: If you donít choose to make permanent connections during Setup you can make them any time from Permanent
Connections Management in the LANtastic NET menu.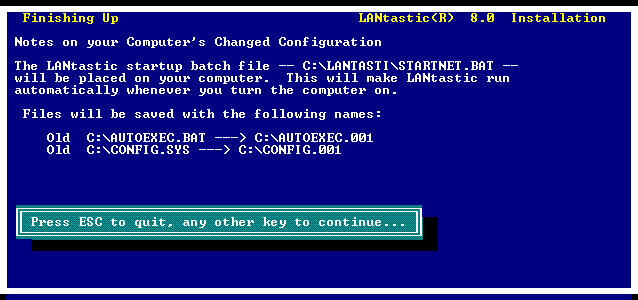 Finishing Up - Displays changed and backed configuration files.

Review the information regarding your system files, then press any key to continue or press Esc if you want to cancel
the installation.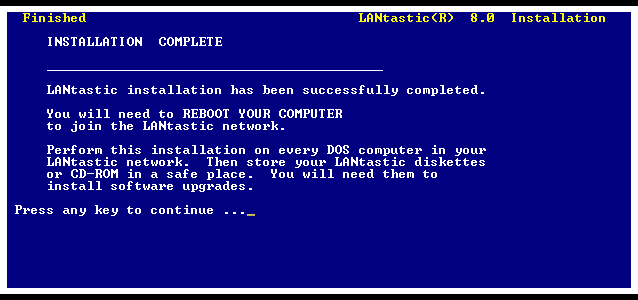 Finished - Remove any disks from the floppy drive, then press any key to continue.

When you press any key to contune, Setup will reboot DOS and activate LANtastic.
To exit Setup without rebooting, press Esc.
Note: You must reboot DOS before you can begin using LANtastic.



---
For the Full LANtastic Installation documentation, go to the LANtastic User's Guides.