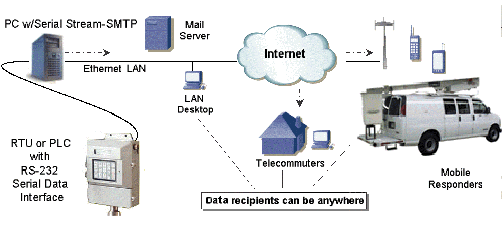 Serial Stream-SMTP

™

is a solution that provides for SMTP (email) transfer of serial data
streams. Serial Stream-SMTP

™

monitors the RS-232 port of a Windows PC, detects the
beginning of a serial data stream, buffers the serial data until there is a user-specified delay in the
stream, and then sends the stream data to a pre-defined message to any Internet email address.
Serial Stream-SMTP

™

is perfect for enabling information from

dumb

serial devices to be sent to a
host computer or to support personnel via SMTP (email). Serial Stream-SMTP

™

is very versatile,
applicable in a wide number of applications, including remote Telemetry and data collection
applications, vending, or other similar solutions.
Manual collection of data from remote devices (such as data loggers) can be a costly process.
Data loggers can often be located in remote areas that may take a great deal of time or resource
Serial Stream-SMTP

™

can be easily installed on any Windows-based embedded computer or
data loggers, enabling serial data streams from sensors or RTUs to be packaged and sent to any
host as a common email message. Wireless IP networks such as CDPD, CDMA, or GPRS are
perfectly suited for email, and are a perfect network choice for Serial Stream-SMTP

™

enabled
Serial Stream-SMTP

™

can provide email transport of data for numerous types of applications:
Vehicle Data Acquisition Systems
Weather & Climate Monitoring
LAN/WAN and Intranet/Internet Applications
Serial Stream-SMTP

™

works on any Ethernet, Wireless LAN (802.11x), or TCP/IP network.
Serial Stream-SMTP

™

can be installed on any PC or server on the LAN, and data streams can
be sent via email to any respondent located inside or outside the network. Alerts arrive on the
LAN desktop via regularly used email clients, such as Microsoft Outlook, Lotus, Netscape, etc. or
be sent to any person or device reachable via an email address including personal email services
(AOL, MSN, Yahoo, etc), Wireless PDAs, WAP or text message enabled cell phones and pagers.
Serial Stream-SMTP

™

can also be used for remote device monitoring. The solution can just as
easily be installed on remote PC's that are be connected to wide-area networking services such
as cable or DSL, or even wireless WAN networks like CDPD, CDMA, or GPRS. This is useful for
remote site access control, gated area monitoring, stand-alone vending applications, etc.
Here is how Serial Stream-SMTPTM might fit into your network scenario: